Slay Coffee
One of the things Chaitanya Chitta and his wife missed the most when they returned to Bengaluru from New York in 2015 was the New York Coffee Culture.
Bengaluru has many cafes and restaurants that offer good coffee, including the renowned filter coffee from Udupi restaurants. Still, it wasn't the same as Big Apple's coffee culture is what they felt, and it became a pain point for them.
To solve this, along with his wife Lakshmi Dasaka, Chaitanya started DropKaffe Food and Beverages Pvt. Ltd., which sells SLAY Coffee, which works on Cloud Kitchen Model. The brand promises to deliver hot gourmet coffee with a snack for Rs. 200-300 within 30 minutes.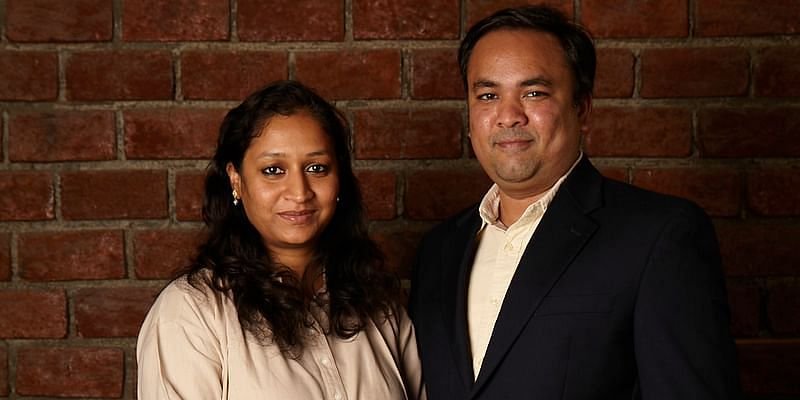 Business Model of SLAY Coffee
SLAY operates in the "coffee outside the café" area, has 150+ cloud locations and 10+ on-the-go coffee bar locations. Innovative products like the SLAY-X, SLAY PourOver, and the SLAY DIY HomeBrewing Kit are some coffee products, which are handcrafted by baristas and shipped in spill-proof, temperature-controlled packaging.
As of now, SLAY coffee has 3 core lines of business
SLAY Cloud for Online
SLAY Coffee Bars for Grab & Go
SLAY Packaged Coffees for home consumption
Unique Features about SLAY Coffee Bars
Everything is digital, from me Coffee recommendations based on AR
Coffees crafted from the finest Indian Arabica and Robusta beans rotate on the menu.
Premium coffees starting at just ₹100/- nu browsing to ordering and payment.
Highly resource efficient — the entire configuration uses less than 100 SFT.
99 percent plastic-free packaging and blockchain-enabled traceability are part of the sustainability guarantee.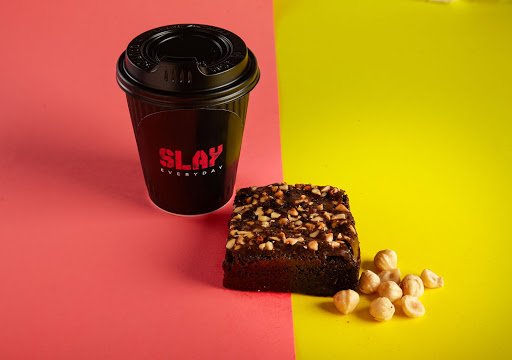 In 2016, the beverage start-up raised $550,000 in a pre-Series A round. The company was in the cold coffee business at the time, and it was planning to launch a smoothie line. After Rebel Foods Pvt. Ltd., the owner of multiple cloud-kitchen brands, became a partner, the coffee firm adopted the cloud kitchen approach.

Mission – "To bring handcrafted, high quality coffee of your choice closer to you without burning a hole in your pocket."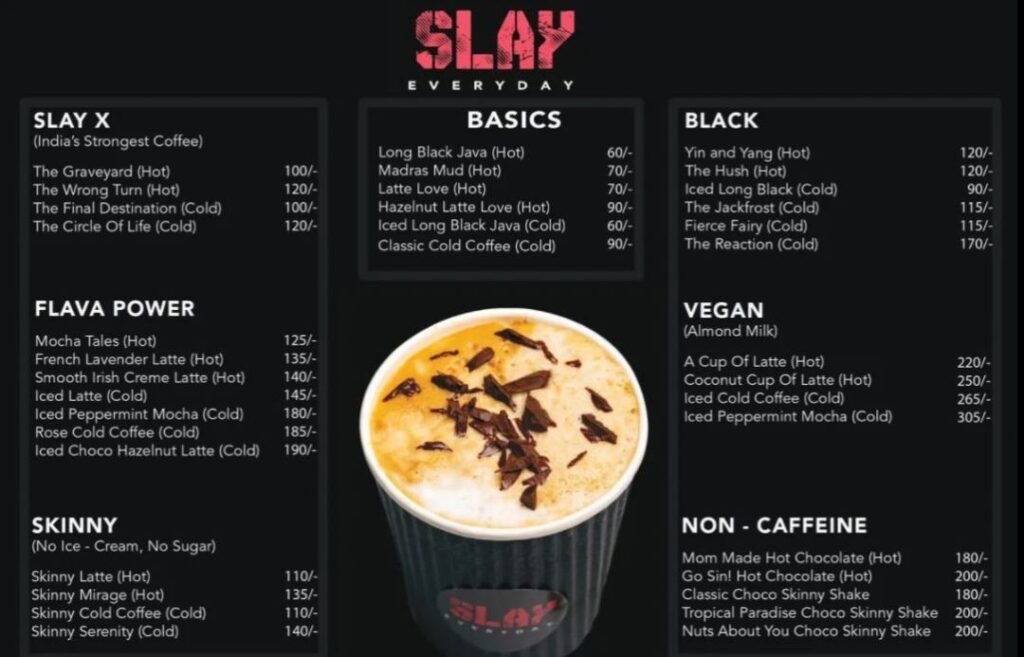 Vision
"Tobuild India's Best Coffee brand. A coffee that is delivered to YOU — Anytime, Anywhere."
"To democratize great coffee experiences through technology & innovative customer experiences."
Core Values
SLAY's core values define how they operate and bring about an alignment of purpose. They aim to learn and get inspired from everyone in strengthening the behaviours & skills both at an individual level and collectively at the Company level. New members are added to the team and existing team members are rewarded and developed based on these values.
1. Customer First
2. Courage
3. Ownership
4. Curiosity
The following principles guide day to day working of SLAY:
1. Acting with integrity and respect
2. Being Passionate
3. Long-term Thinking
Type of Start-up – Food and Beverages Company
Total Funding – $5.54 Million.
Evaluation – $9.29M as on Apr 14, 2021
Headquarters – Mumbai, India.
Total Employees – 150-200
Sustainability Practices
Using of Bagasse lids instead of plastic lids across all Cafes. Bagasse lids are 100% biodegradable and compostable. Every year, 1 billion lids are sent to landfills across the globe, and through this effort, SLAY would be eliminating their contribution to Landfills.
Serving all cold beverages in paper cups rather than plastic cups. This is a significant and fundamental shift for a coffee brand. In the future, they hope to gradually transition to more environmentally friendly cups.
Proprietary SLAY Case is designed to keep coffee warm while preventing leaks and spills, allowing it to travel from our cafes to our customers' preferred location. Paper is used to make the case and the holder inside. The case is 99% plastic-free.
Future Goals
The founders have set their sights on international expansion in the coming years, with plans to expand into Dubai, Indonesia, and other Southeast Asian markets.
They also are planning to expand their SLAY Coffee Bars for a 'Grab-and-go experience', which the brand envisions a setup with few numbers of seats available, and customers can simply take their coffee and go about their business.