Founded by Aadit Palicha and Kaivalya Vohra, Zepto is an instant grocery delivery startup that promises to deliver grocery and daily essentials in just 10 mins. Zepto, which means 'A minuscule unit of time,' was started by Palicha and his childhood friend Kaivalya after dropping out of Stanford University to return to India and begin quick commerce. It started its operations in Mumbai in early 2021 and since expanded to Delhi, Chennai, Bangalore, and four other major cities in India.
Zepto is growing at 200% annual rates with a retention rate of 78 percent. The founders aim to do something in the next 12-18 months, which well-funded companies will take years to accomplish; this was logical also because the grocery delivery space is either has a flawed delivery system or are focused on multiple different models. Zepto, with the funding $60 million USD at $225 million evaluation in early-stage round by Glade Brook Capital and another $100 million at valuation of $570 million 45 days later in a funding round led by Y-Combinator, are set to disrupt the whole market of grocery, which is super competitive.
Working model of Zepto
1. Dark stores
Zepto has opened dark stores in all of the cities where it does business. These are designed and optimized to ensure quick deliveries. A dark store, also known as a micro warehouse, is a location where items are stored solely for delivery and pick-up purposes. It's a large retail facility that looks like a regular supermarket or other store but isn't open to the public. The items are placed strategically, according to what sells the most in that area, ensuring that they have everything they require to serve them. This concept is relatively new, and companies such as Grofers are working to develop a similar model. This model enables it to deliver effectively and quickly. And to make the procedure less difficult Zepto claims that using location intelligence and geospatial data, such as geography, demography, road patterns, traffic dynamics, weather, last-mile supply availability, real estate prices, and so on, it can better optimize its network, which it builds and delivers through dark stores.
2. SOP
Zepto processes and transports goods from the dark store in just 60 seconds, according to its standard procedures. The setup works on a predictive model and analyses what we use on a daily basis and would want it to be delivered immediately.
3. The magic Round
Since it is based on things we need daily, This setup is gaining traction, as related international startups such as The Gorillas and Getit have experienced rapid growth by focusing on delivery and customer experience. Since the grocery market is moving online, Zepto takes advantage of this by offering a hassle-free delivery experience with a median delivery time of 8 minutes and 47 seconds.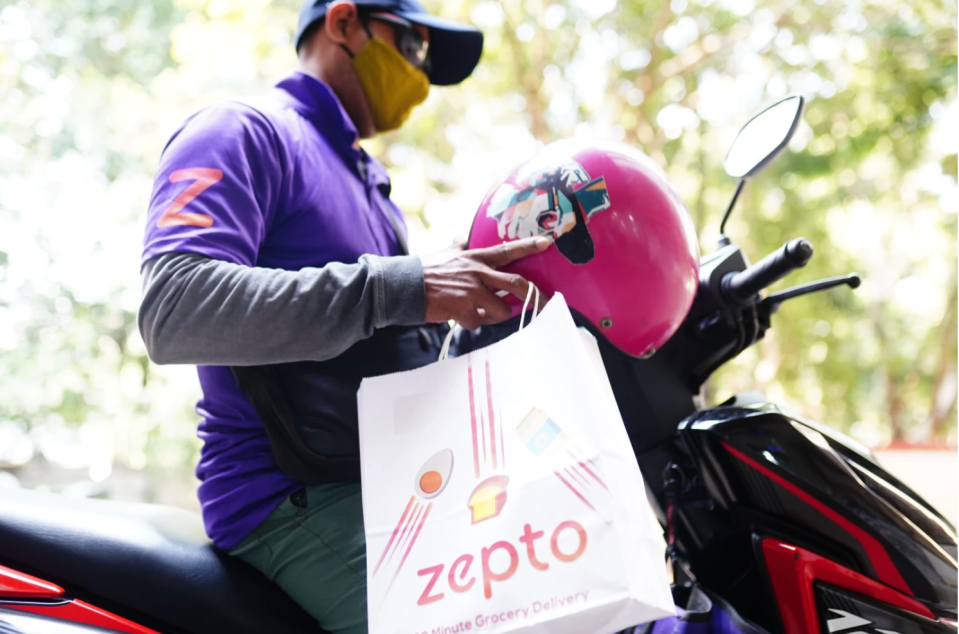 Market Size and Competition
India's online food and grocery retail market is expected to reach $10.5 billion (1.2 percent) of the overall retail market by 2023, according to RedSeer Consulting.
Amidst the pandemic that we are stuck in, online grocery retailers gained traction. To gain market share, companies must look beyond the availability of new products or discounts. The competition has now become a race to see who can deliver the most quickly.
Swiggy Instamart, which promises deliveries in 15-30 minutes, and Grofers, which recently launched its 10-minute grocery deliveries- BlinkIt , compete with Zepto.
"We can have high-level conversations about life, liberty, and the pursuit of happiness and our launching 10 dark stores every day, which is like all nonsense. The reality is that we're executing really well on the ground. Out of the three to four guys (competitors), I think one guy is executing pretty well, that's what we're focused on, everybody else is just noise." – Aadit Palicha
Vision – To make 10-minute delivery the new normal.
Mission – We're revolutionizing the way India shops.
Headquarters – A-2201, Flr 22nd, Veda CHS Eknath Ghadi Marg, Bhoiwada Nr. ZP-140, Parel, Mumbai, 4000012, India
Funding Stage – Series C
Delivery Areas – Total 100 dark stores inDelhi, Mumbai, Chennai, Gurugram, Pune, Bangalore, Hyderabad, Noida
Number of Employees – 400+ corporate employees
Plans for the Future – With the capital they have raised till now, and have planned to raise, Zepto aims to expand its currently 400-strong team to 800 in the financial year, 2022-23, and increase the number of cities they cater to, while maintaining their USP – 10 mins delivery.